Recommendations
DOG GROOMER
Chorley Dog Groomers is run by Emma Green, who is a fantastic local dog groomer (based in Chorley). She has a very professional home-based setup and operates on an appointment basis so no dogs are kept in cages waiting. She is very compassionate with the dogs and a real perfectionist when it comes to her job!
Her website is: www.chorleydoggroomers.co.uk


DOG HARNESSES
Many people ask us which harnesses we recommend for dogs. Our favourite by far is the Perfect Fit Harness (pictured below). They fit as the name suggests; perfectly! These harnesses come in three separate pieces which clip together (making it much easier to get on and off than the harnesses which go over the dog's head!), and you can select the size combination to fit your dog precisely so there should be no sliding around on the dog's body, no chafing, and no backing out of the harness either. They offer adjustment in up to five places, and have a d-ring on the chest as well as on the back, which makes managing dogs that pull so much easier. The pieces are padded with a nice soft fleece for a comfy fit too.

These harnesses also work well for puppies, because as they grow you have the option to just replace one or two of the pieces instead of having to buy a whole new harness every few months!

Have a look at: www.dog-games-shop.co.uk/perfect-fit-fleece-dog-harness.html

We also like the Ruffwear Front Range Harness (pictured in blue on the French bulldog below). It has great buckle adjustment, is fantastic quality and generally fits very well.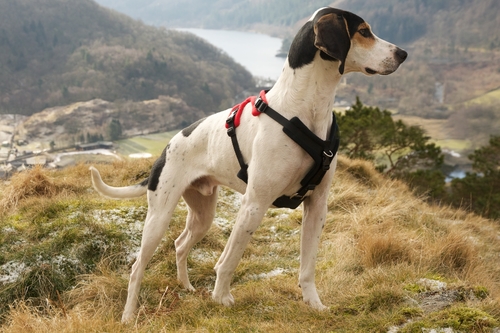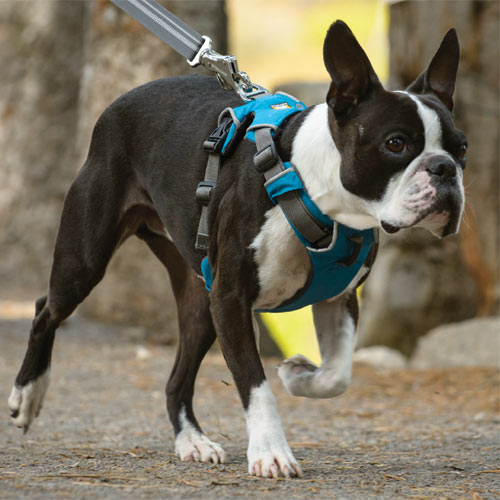 LONG LINES (also called recall lines or training lines)
When training recall with your dog, we strongly recommend the use of a long line to keep your dog safe and to help improve your recall process - otherwise your dog will learn that when they are off lead, they can ignore you when they feel like it, and you will never develop a good recall! A 10 metre line is generally the best length for training recall.

Our favourite line is made by YellDog: https://yelldog.co.uk/product/bende-textile-rubberised-lines/ - these are rubberised lines which are really nice to handle and maintain their grip when wet! We also like the biothane lines (have a look on Google). The Clix 10m lines are great also as a more affordable option. You can get cheaper lines from the internet but these are generally made of nylon which easily rip your hands to bits!

Bear in mind that if used correctly throughout the recall training process, you SHOULD be using your long line for several months while you build a nice reliable recall foundation with your dog. For us, spending a little extra on a good quality long line is worth it because it will make the training process more comfortable for you! As well as helping to protect your hands, the better quality lines don't tangle or knot as easily too.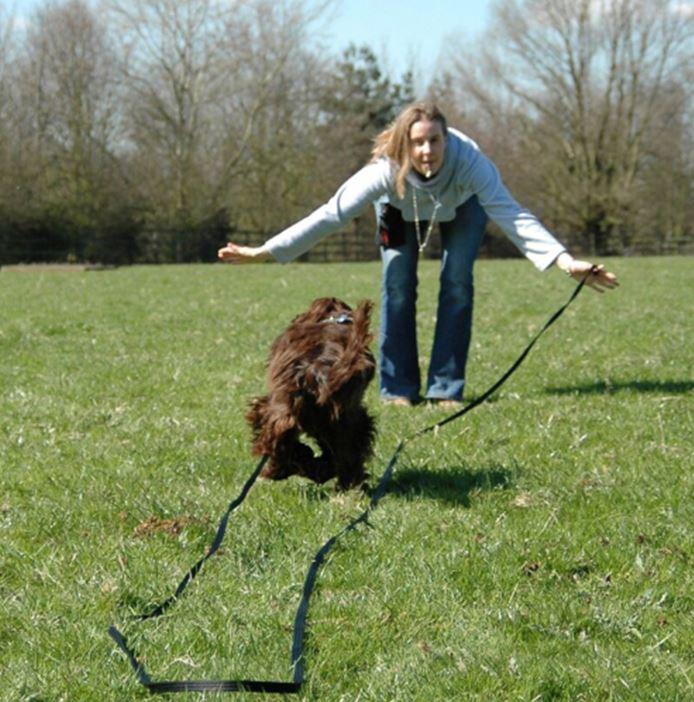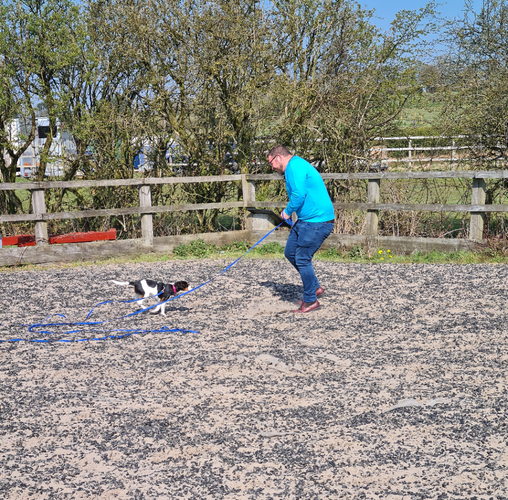 TREAT POUCHES
When we are using treats during reward-based training, it can really help if you can train hands-free. The less visible your treats are to your dog, the more smoothly your training journey will progress. There are many different designs of treat pouches but many don't work too effectively. Drawstring treat pouches are a pain to use and can easily come undone. If those treats aren't tucked away safely, your dog can easily jump up and knock them all out!

Our go-to treat pouch is the Doggone Good Rapid Rewards Training Pouch: https://www.traininglines.co.uk/doggone-good-rapid-rewards-training-treat-pouch.html

It has a magnetic closure which works brilliantly, and fits via a waistband with a buckle clip - no fiddling about trying to hook it onto your pants or pocket. Plus, it has a series of zip pockets and little pouches, perfect for keeping your phone/keys safe and carrying your clicker and poo bags as well!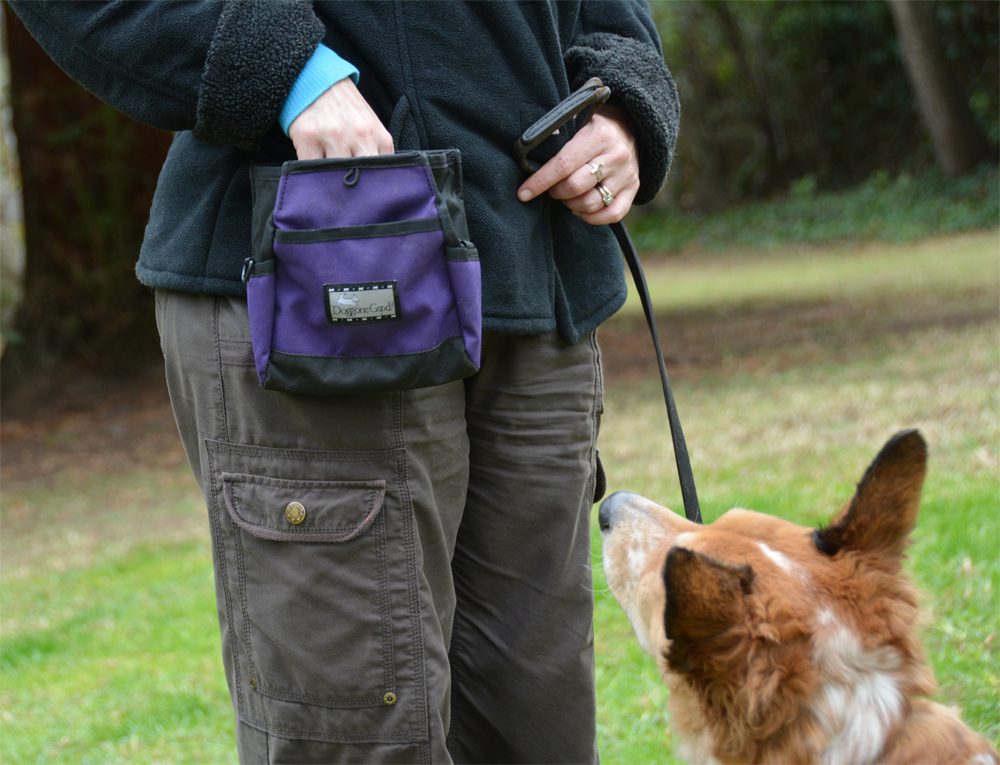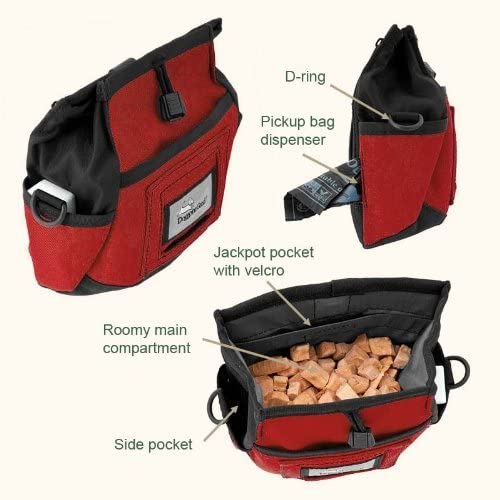 EQUAFLEECE DOG COATS
The Equafleece is a good quality dog garment made from a thick polar fleece fabric which keeps dogs warm and keeps the rain out. They are breathable, can be put in the washing machine and are incredibly comfy for the dog.

You can choose from a variety of options that include dog jumpers, jackets and onesies, depending on the coverage you would like. These garments work very well if you have a dog that regularly gets filthy and can help preventing them from needing a full bath after a walk.

They now also offer a 'slim-fit' option in the jumper and onesie which help if you have a long but thin dog that doesn't fit into most of the 'off-the-peg' coats available in most pet stores.

Their website is: www.equafleece.co.uk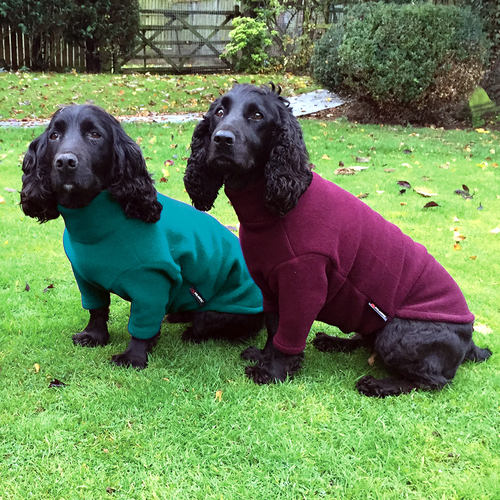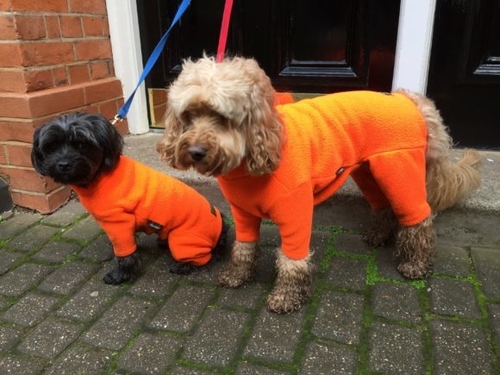 K9 CLEANCOATS
We absolutely love K9 Cleancoats. They offer a high quality bespoke service, creating stylish, tailored, completely custom dog onesies that are made to measure so that they fit your dog perfectly. They have full-length legs with elasticated cuffs to keep the water out on boggy wet ground, and also have a snood for extra warmth or to keep your dog's ears dry. And they offer a fantastic range of over 60 colours/patterns of fabric to choose from!

These garments are made from thick polar fleece fabric which keeps dogs warm, dry and clean, meaning you just need to wash your dog's paws after a wet muddy walk. We love these so much, we have three! They are more expensive than the likes of the Equafleece, but wash brilliantly and will last and last. We can't recommend them highly enough.

Take a look at: www.k9cleancoats.co.uk