Kennel Club Good Citizen Dog Scheme Classes
For any age of dog. These classes run on Monday evenings at 6:00pm and Wednesday evenings at 7:00pm in Leyland.
These are progressive training classes for anyone who has previously completed basic training, each session lasting approximately one hour.
These classes allow you to improve on the basic skills learnt during foundation-level training, enabling you to teach your dog even more important and valuable life skills to develop their focus, confidence and manners even further. This helps to build the bond between dog and owner and most of all, you can have fun together!

The classes run in 5-week rolling blocks, working towards the Kennel Club Good Citizen Dog Scheme Awards at Bronze, Silver and Gold levels. You can attend for as many blocks as you wish. Official Kennel Club GCDS assessments for the awards are run periodically but it is not mandatory to complete the assessments if you do not wish to.
Requirements
For your dog to be able to attend these classes, the only requirement initially is for them to be able to cope in a group environment, and to be able to focus on their owner when carrying out practical exercises. We will teach you everything else!
Your dog does not have to be Kennel Club registered to be eligible to attend - all breeds and mixes of breeds welcome!
If you have a dog that hasn't completed any group training sessions before, we are more than happy to arrange a 1-2-1 training session to bring you up to speed so that you can attend the KC group classes.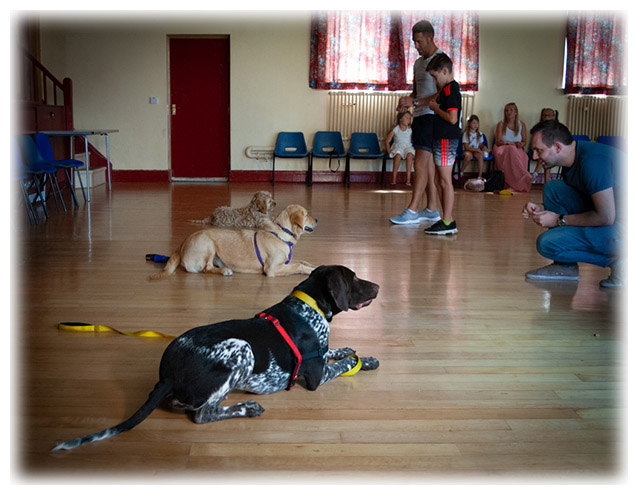 What do we teach during these classes?
- How to settle and be calm around distractions
- How to improve lead walking skills
- Road walking skills
- Building dog-owner focus around distractions
- Training a reliable recall amongst dogs and people
- How to wait and be calm at doorways
- Vehicle manners
- Appropriate behaviour around food
- How to behave around other dogs
- Greeting people in a controlled manner
- The send to bed command
- Sit stays and down stays with plenty of progression
- Teaching calmness during handling and grooming
- The emergency stop command
- Fun games to improve dog-owner bond
- Progression of drop and leave commands
CLASS AVAILABILTY
- Mondays 6pm (St Ambrose Hall, Moss Lane, Leyland, PR25 4XA)
Limited spaces.

- Wednesdays 7pm (Leyland Orthodox Church Hall, 403 Leyland Lane,PR25 1TA)
Limited spaces.