Puppy Foundation Course
For puppies aged up to 20 weeks. This is a 6-week course, each session lasting approximately one hour.

UPCOMING COURSE START DATES:
- Wednesday 20th February 6pm (Leyland Orthodox Church Hall, 403 Leyland Lane, PR25 1TA) FULLY BOOKED
- Monday 11th March 7:30pm (St Ambrose Hall, Moss Lane, Leyland, PR25 4XA)
- Wednesday 3rd April 6pm (Leyland Orthodox Church Hall, 403 Leyland Lane, PR25 1TA)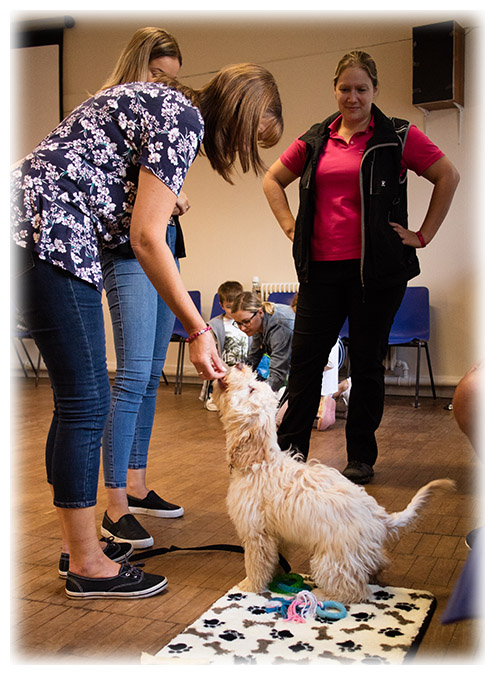 What will you learn during this course?
You will teach your puppy all of the essential life skills that are the building blocks you need in order to advance your training, covering topics such as:
- How dogs learn; the learning stages
- Showing your dog right from wrong in a positive way with rewards
- Building focus and connection with your dog
- How to work with what motivates your dog
- Clicker training; what is it and how do we use it to train a dog?
- Early socialisation and habitation; the do's and don'ts
- Appropriate greetings
- How to manage mouthing/biting and chewing
- Different training techniques and when it is appropriate to use them
- Food manners; stopping your dog snatching food from your hand
- How to stop your dog from jumping up
- Teaching your dog to pay attention to you
- Teaching your dog to sit, stand and lie down on command
- How to train a successful recall; techniques, do's and don'ts
- Teaching your dog to settle and be calm
- Handling and health checks
- Looking at how your body language affects your dog
- Appropriate exercise for your puppy and mental stimulation activities
- How to be a responsible dog owner; dog law and dog owner etiquette
- Introduction to puppy parkour (interacting with different obstacles)

£70 for the 6-week course BOOK NOW

Please note:- The first session is an owners only information evening; no dogs. During this session, we cover:
- How to ensure your dog will be comfortable when you bring them along to their first session on week two
- What you need to bring to the training sessions
- How the sessions will be structured
- The training methods we will be using
- How to deal with your dog being excited during class
- An introduction to clicker training to ensure that you will be comfortable using the clicker on week two
- Biting and mouthing
This helps you feel more prepared for when you bring your dog along for the first time, and we find that the dogs are much calmer and more comfortable when we get organised in advance. Plus, it means owners can listen to all of the discussion topics without the distraction of over-excited dogs!