Puppy Foundation Course - Kennel Club Good Citizen Scheme - Puppy Award
For puppies aged up to 20 weeks. This is a 6-week course, each session lasting approximately one hour.

This course follows the Kennel Club Good Citizen Scheme - Puppy Foundation level.

Upon completion of the course, your puppy should have achieved all of the requirements for the KC Puppy Foundation Award, and you will receive an official Kennel Club certificate and rosette.

UPCOMING COURSE START DATES:
- Monday 29th April 7:15pm (St Ambrose Hall, Moss Lane, Leyland, PR25 4XA) FULLY BOOKED
please note: there will be no class on Mon 27th May (there WILL be a class on bank hol Mon 6th May)

- Wednesday 22nd May 6pm (Leyland Orthodox Church Hall, 403 Leyland Lane, PR25 1TA)

* NEW CLIENTS WILL ALSO RECEIVE 50% OFF THEIR FIRST PUPPY SOCIALISATION SESSION WITH US! *
These are monitored and secure puppy play sessions exclusively for existing clients of Confident Canines which provide fantastic socialisation and confidence building for your young pup!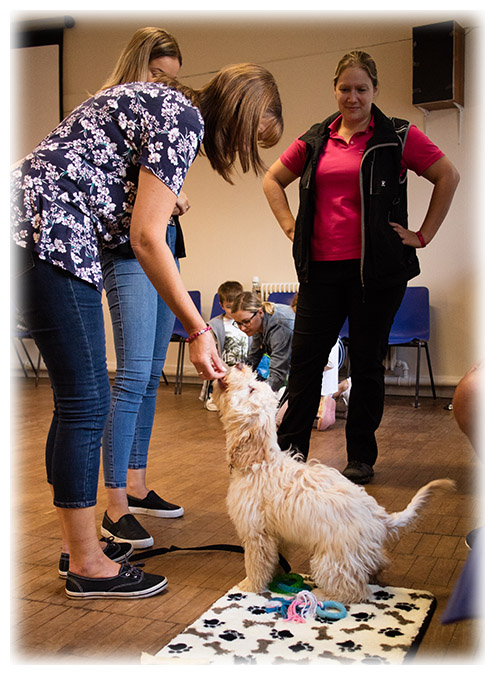 What will you learn during this course?
You will teach your puppy all of the essential life skills that are the building blocks you need in order to advance your training, covering topics such as:
- How dogs learn; the learning stages
- Showing your dog right from wrong in a positive way with rewards
- Building focus and connection with your dog
- Clicker training; what is it and how do we use it to train a dog?
- Early socialisation and habitation; the do's and don'ts
- How to manage mouthing/biting and chewing
- Food manners; stopping your dog snatching food from your hand
- Teaching your dog to pay attention to you
- Teaching your dog to sit, stand and lie down on command
- How to train a successful recall; techniques, do's and don'ts
- An introduction to walking nicely on the lead
- Teaching your dog to settle and be calm
- Foundation level stay training
- Handling and health checks
- Appropriate exercise for your puppy and mental stimulation activities
- The drop command
- How to be a responsible dog owner; dog law and dog owner etiquette

£70 for the 6-week course BOOK NOW