ONE TO ONE HOOPERS TRAINING
For any age of dog from 6 months upwards.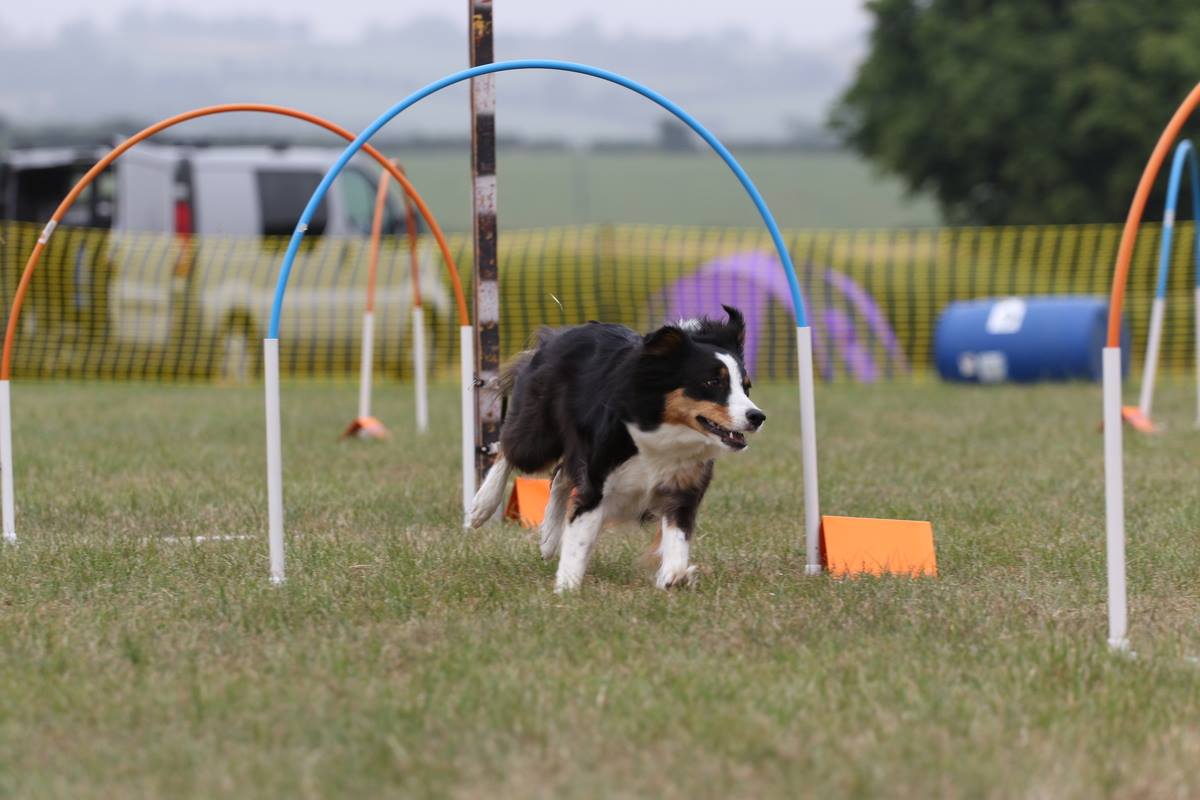 Canine Hoopers is a new and upcoming dog sport in the UK. To learn a little more about what it is all about, take a look at the promotional video HERE.
It is low impact, so is suitable for dogs of all ages (including puppies!), and uses equipment which is accessible for dogs of all sizes, from mini to giant!
The basic equipment comprises of hoops, big 80cm diameter tunnels and barrels to run around. Hoopers courses are designed to encourage distance handling which is great for handlers of all abilities - no sprinting is required!
The sessions are taken by Emma Cowie-Shaw who qualified as an Accredited Canine Hoopers UK Instructor in 2018.


Why One to One Sessions?
These sessions may suit you if:
- Your dog isn't suited to a group training environment with other dogs
- You can't commit to regular weekly training classes
- You would like to learn about the introductory skills required for hoopers training but the timing of the foundation workshop doesn't suit you
- You would like some personalised tuition to help progress your hoopers skills on a one on one basis
Requirements
To get the most out of these sessions we recommend that your dog has had general basic foundation level training (puppy training for example), either in a group environment or on a one to one basis. No previous Hoopers experience is necessary - we can teach you everything from the beginning!
Although you will be in the arena on your own, your dog does need to have the ability to focus on you in public or they will struggle with the training exercises.
What will we learn during these sessions?
During the sessions we will cover topics such as:
- Dog-handler focus
- Dog-handler interaction for success and drive
- Adding start line waits to the equipment
- Introducing the dog to corners
- Teaching the dog front and rear cross techniques using the equipment
- Introducing the dog to run multiple pieces of equipment in a sequence
- Spacing out the equipment to course competition standard
- Adding handler distance
- Sending the dog ahead
- Perfecting verbal cues / body signals
- Practicing simple Hoopers courses using multiple pieces of equipment

But ultimately, each session will be tailored to suit your dog's individual requirements.

CONTACT US if you would like to book in for a Hoopers one to one session.
£58 for a 45-minute private training session or £78 for an hour's session.
These sessions take place in the indoor arena at Brookfield Equestrian Centre in Brindle.