COLLAR OR HARNESS?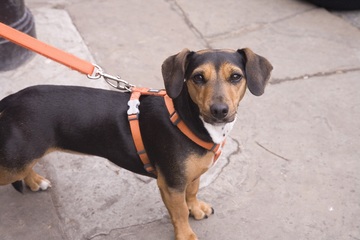 Many new dog owners are uncertain as to whether they should be using a collar or a harness for their dog.
I am a huge fan of harnesses and will explain why shortly, but I think collars can have a place if your dog doesn't pull on the lead.
I thought this article may be informative for people who are unsure about the best choice for their dogs.
A dog's neck is a very sensitive part of the body. If your dog pulls or jumps about on the lead, they can suffer from whiplash, thyroid damage, ear and eye damage (pulling on the lead restricts blood flow to the ears and eyes) and nerve damage, as well as various muscular problems due to the delicate tissues in that area.
For the factors just mentioned, I tend to advise getting your dog fitted out in a harness to prevent any of the above from becoming a problem.

What type of harness is best?
When it comes to harness shopping, it is a bit of a minefield because there are so many types. In addition to this, many manufacturers only produce harnesses in a range of standard 'off the peg' sizes with limited adjustment. This often results in owners having to 'make do' with a harness that doesn't fit brilliantly.
If your harness moves about on your dog, if it slides around, or is loose enough for your dog to back out of it, it doesn't fit properly. Any harness that allows excessive movement can result in rubbing on your dog's body, sometimes severely damaging the delicate thin skin just behind their front legs (their 'armpits!).
The more padded the harness, the less chance you have of it rubbing your dog or feeling uncomfortable on them whilst they are wearing it. Harnesses with thin nylon straps can rub dogs quite easily.
The harnesses which are like jackets (generally for smaller dogs) can cause bad matting if you have a dog that has a fluffy coat.
Harnesses with a horizontal strap across the chest can limit movement of a dog's shoulders.
I personally recommend the 'Y' shape harnesses which, if fitting correctly, allow free movement of a dog's anatomy. The more adjustment a harness has, the better. Some harnesses allow for more adjustment than others.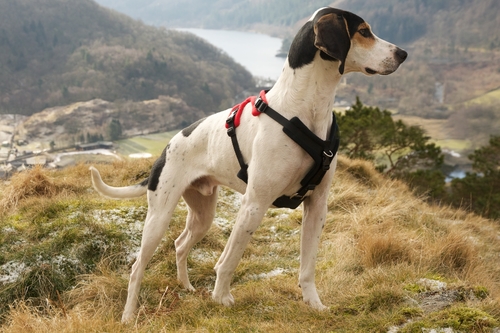 My favourites are the Perfect Fit harness, the Ruffwear Front Range harness, and the Red Dingo Padded Harness. These have a brilliant range of adjustment to help get a really nice fit.
Ultimately, the Perfect Fit harness has the best adjustment available because they do as their name suggests: fit perfectly! They manage to do this by manufacturing the harness in three separate pieces, all of which clip together and have separate buckle adjustment on them.
This can be quite handy if you have a young dog that still has growing to do because often you only need to replace one or two pieces of the harness, saving you from having to buy a whole new one as your dog grows.

Will a harness stop my dog from pulling on the lead?
Some manufacturers claim they have a magical 'no pull harness'. This is absolute rubbish! Some harnesses can help to manage a dog that pulls, but there is no magical contraption that stops your dog pulling completely.
The harnesses mentioned above all have two D-rings: one on the back of the harness and one on the chest. For dogs that pull, these harnesses can be used with a double-ended training lead to help manage the pulling whilst on walks. One end of the lead can be clipped on the chest and the other end can be clipped onto the back so that you can effectively 'steer' the dog when they start pulling and lunging (a bit like steering a horse!).
It should be noted though that this is a management tool! Ultimately, if you want your dog to walk nicely on the lead, there is no substitute for proper training where you teach your dog what you want them to do whilst out on a walk, rather than constantly trying to suppress or correct the undesired pulling behaviour.

What about a headcollar?
There are headcollars on the market which can help to control dogs that pull on the lead. These can be a great management tool for those owners with big strong dogs where safety in public is of utmost importance – we don't want anyone being dragged in the path of a bus, or a St Bernard jumping up on an elderly person to say hello!
Many headcollars don't fit well and can slide up into a dog's eyes, so it is important you do your research if you are wanting to get one. Some are more padded than others, and some fit better than others. The other thing to remember too is that using a headcollar doesn't teach your dog to stop pulling. It simply masks the problem, meaning that you can cope better whilst out on a walk and have your dog under better control, but it doesn't teach them how to walk nicely on the lead.

What's the best solution?
Ultimately, the best solution is to teach your dog what you actually want them to do whilst out on a walk; to walk nicely beside you with there being no tension on the lead. This solves the problem rather than just masking it. The good news is that we can help with this!
GET IN TOUCH if you would like some one-to-one training to help resolve pulling on the lead. Alternatively, we also run group training classes which focus on progressing the basic foundation level training skills, including strong focus on teaching your dog to walk nicely on the lead and be under better control whilst out in public.
We are based in Leyland but cover most areas within a 10 mile radius.
Typical areas include: Leyland, Penwortham, Lostock Hall, Bamber Bridge, Eccleston, Chorley, Euxton, Croston, Longton, New Longton, Clayton-Le-Woods, Whittle-Le-Woods, Walton-Le-Dale, Hutton, Much Hoole, Brindle, Wheelton, Heapey, Hoghton.
If you are outside of the 10 mile radius, please contact us. We will travel further but may have to add a small surcharge to cover fuel costs.