PUPPY FOUNDATION COURSE
For puppies aged up to 19 weeks at the start of the course. This is a 6-week course, each session lasting approximately one hour.


Our classes run at St Ambrose Halls for All in Leyland (Moss Lane, PR25 4XA).
There are 6 places available on each of our Puppy Foundation Courses to allow plenty of space between puppies and individual attention from the instructor.


How early should I start training my puppy?? - The earlier the better! Click HERE to find out why!


Please note:- Group training classes are only suitable for puppies that can cope in a group environment. If your puppy is barky or very nervous, group classes are not for them (they will make the problem worse).

COVID-19 UPDATE: We have strict social distancing measures in place which you must adhere to. You will be notified about these measures upon booking.

UPCOMING COURSE START DATES:
- Monday 12 October 7:30pm FULLY BOOKED
- Saturday 24 October 2:00pm FULLY BOOKED

- Wednesday 4 November 6:15pm FULLY BOOKED

- Monday 30 November 7:30pm FULLY BOOKED
Please note:- There is no class on 21 Dec or 28 Dec. Classes resume on 4 Jan.
- Saturday 5 December 2:00pm * 2 SPACES LEFT *
Please note:- There is no class on 26 Dec or 2 Jan. Classes resume on 9 Jan.
- Wednesday 6 January 6:15pm

£90 including a free clicker BOOK NOW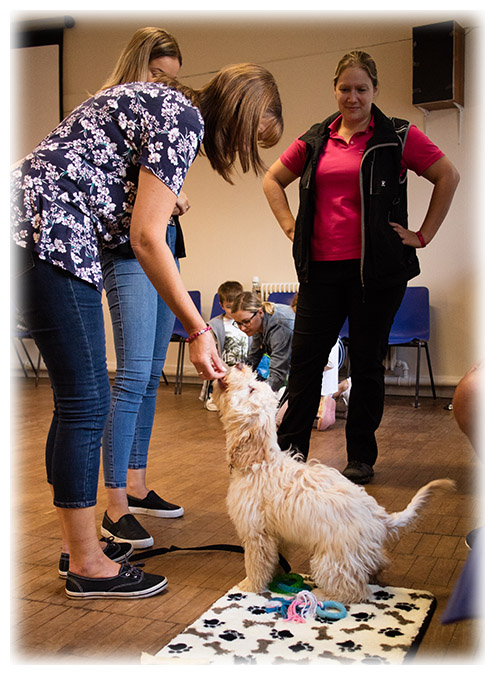 What will you learn during this course?
You will teach your puppy all the essential life skills to give them the best start possible in life:
- How dogs learn; their learning stages and how to efficiently teach them
- How to stop undesired behaviours from developing
- Building focus and connection with your dog
- How to work with what motivates your dog
- Clicker training; what is it and how do we use it to train a dog?
- Early socialisation; the do's and don'ts
- Teaching your dog to pay attention to you
- Teaching your dog to sit, stand and lie down on command
- Teaching your dog to settle and be calm
- An introduction to walking nicely on the lead
- How to train a successful recall; techniques, do's and don'ts
- Tug games and the drop command
- An introduction to the leave command
- Foundation level stay training
- Handling, health checks and grooming
- Food manners; stopping your dog snatching food from your hand
- How to manage mouthing/biting and chewing
- How to be a responsible dog owner; dog law and dog owner etiquette

£90 including a free clicker BOOK NOW