PUPPY FOUNDATION COURSE
For puppies aged up to 18 weeks on the start date of the course. This is a 7-week course, each session lasting 50 minutes. Week one is owners only (no puppies!) to enable us to discuss all things puppy & training related before your pups join us for weeks two to seven.
Our classes run at Halls for All in Leyland (Moss Lane, PR25 4XA).
There are 6 places available on each of our Puppy Foundation Courses to allow plenty of space between puppies and individual attention from the instructor.
To support the weekly classes, you will receive a full set of detailed training notes so that you can refer back to them when you need to. You will also have access to our exclusive private Puppy Training Hub on our website where you can view our online training material whenever you wish for the duration of the course. All practical exercises are supported with over 25 video demos filmed by Emma to guide you through every skill we teach in a methodical, easy-to-understand way.


How early should I start training my puppy?? - The earlier the better! Click HERE to find out why!


Please note:- Group training classes are only suitable for puppies that can cope in a group environment. If your puppy is barky or very nervous, group classes are not for them (they will make the problem worse).



UPCOMING COURSE START DATES:

- Wednesday 13 July - 6pm (please note: there is no class on 10 Aug) FULLY BOOKED
- Monday 1 August - 7pm
- Saturday 20 August - 2pm
(Because week one is owners only, your puppy only needs to be vaccinated to go out in public on week two of the course).


£135 BOOK NOW
Included in the cost of the course is a New Puppy Training Pack worth £10 which will provide you with:
A selection of tasty all-natural longer-lasting chews suitable for your pup's age (such as lambs ears, goats ears, braided lamb skin, calf hooves, buffalo skin strips etc)
A pack of tasty grain-free training treats
Two premium dog food samples
A training clicker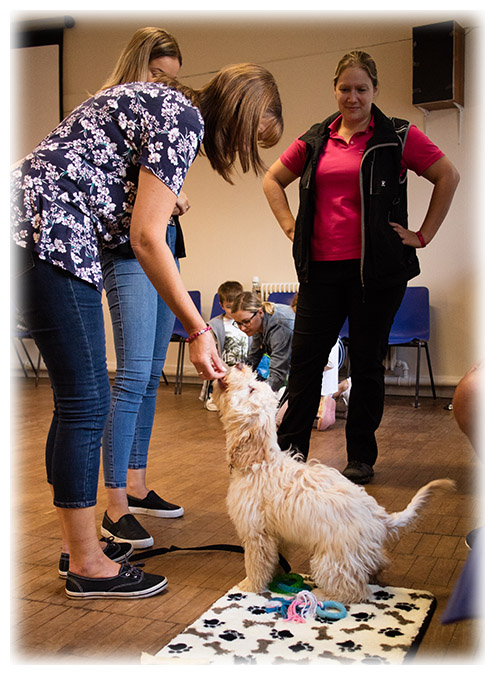 What will you learn during this course?
You will teach your puppy all the essential life skills to give them the best start possible in life:
- How dogs learn; their learning stages and how to efficiently teach them
- How best to manage the complex puppy developmental stages
- How to stop undesired behaviours from developing
- Building focus and connection with your dog
- How to work with what motivates your dog
- Clicker training; what is it and how do we use it to train a dog?
- Early socialisation; the do's and don'ts
- Teaching your dog to pay attention to you
- Teaching your dog to sit, stand and lie down on command
- Teaching your dog to settle and be calm
- An introduction to walking nicely on the lead
- How to train a successful recall; techniques, do's and don'ts
- Tug games and the drop command
- An introduction to the leave command
- Foundation level stay training
- Handling, health checks and grooming
- Food manners; stopping your dog snatching food from your hand
- How to manage mouthing/biting and chewing
- How to be a responsible dog owner; dog law and dog owner etiquette
- The importance of canine enrichment

We are lucky to be able to use a fantastic venue at Halls for All in Leyland with more than ample space!
The venue has toilets and a good sized car park.