PUPPY FOUNDATION COURSE
For puppies aged up to 18 weeks at the start of the course. This is a 6-week course, each session lasting approximately one hour.

COVID UPDATE:- Due to the current tier restrictions, all in-person training is currently suspended. As such, we have reinstated our ONLINE PUPPY FOUNDATION COURSE for those people that wish to ensure their puppies have the all-important early education that they need. Don't wait until after lockdown to start training your puppy or you will likely have all sorts of problems! Get started now and lay the foundations at home with our support.


Our classes run at St Ambrose Halls for All in Leyland (Moss Lane, PR25 4XA).
There are 6 places available on each of our Puppy Foundation Courses to allow plenty of space between puppies and individual attention from the instructor.


How early should I start training my puppy?? - The earlier the better! Click HERE to find out why!


Please note:- Group training classes are only suitable for puppies that can cope in a group environment. If your puppy is barky or very nervous, group classes are not for them (they will make the problem worse).

COVID-19 UPDATE: We have strict social distancing measures in place which you must adhere to. You will be notified about these measures upon booking.

UPCOMING COURSE START DATES:

PLEASE NOTE:- WE HAVE TEMPORARILY STOPPED TAKING BOOKINGS FOR OUR IN-PERSON TRAINING CLASSES DUE TO THE CURRENT RESTRICTIONS. AS SOON AS THE SITUATION IMPROVES, WE WILL REINSTATE OUR ONLINE BOOKING SYSTEM.

£90 including a free clicker BOOK NOW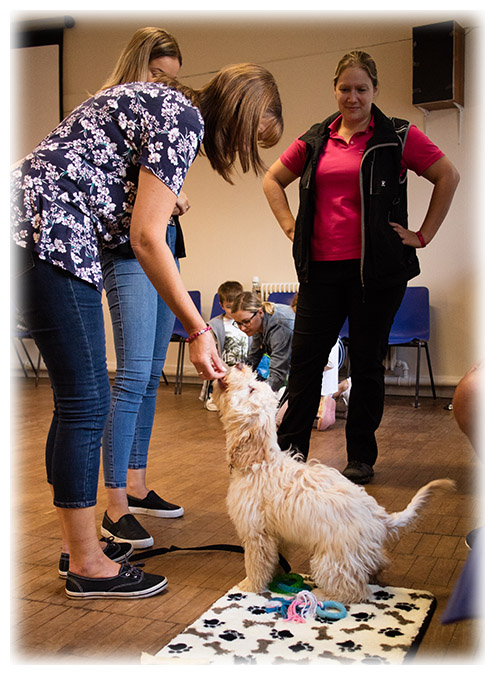 What will you learn during this course?
You will teach your puppy all the essential life skills to give them the best start possible in life:
- How dogs learn; their learning stages and how to efficiently teach them
- How to stop undesired behaviours from developing
- Building focus and connection with your dog
- How to work with what motivates your dog
- Clicker training; what is it and how do we use it to train a dog?
- Early socialisation; the do's and don'ts
- Teaching your dog to pay attention to you
- Teaching your dog to sit, stand and lie down on command
- Teaching your dog to settle and be calm
- An introduction to walking nicely on the lead
- How to train a successful recall; techniques, do's and don'ts
- Tug games and the drop command
- An introduction to the leave command
- Foundation level stay training
- Handling, health checks and grooming
- Food manners; stopping your dog snatching food from your hand
- How to manage mouthing/biting and chewing
- How to be a responsible dog owner; dog law and dog owner etiquette

£90 including a free clicker BOOK NOW