CANINE HOOPERS FOUNDATION WORKSHOPS
For any age of dog - this includes puppies!
Canine Hoopers is a new and upcoming dog sport in the UK.
It is low impact, so is suitable for dogs of all ages (including puppies!), and uses equipment which is accessible for dogs of all sizes, from mini to giant!
The basic equipment comprises of hoops, big 80cm diameter tunnels, and barrels to run around. Hoopers courses are designed to encourage distance handling which is great for handlers of all abilities - no sprinting is required!
This 90 minute workshop provides a fantastic introduction into the new and upcoming sport that is Canine Hoopers, covering all of the foundation techniques you need to be able to progress onto our regular weekly Hoopers classes which run on Sunday mornings at the same venue in Brindle.
The workshop will be taken by Emma Cowie-Shaw who qualified as an Accredited Canine Hoopers UK Instructor in 2018. She is also a Platinum member of the UK Hoopers Pro Instructor network, teaching Hoopers skills from complete beginners to competition level.


During this workshop you will be introduced to the different types of equipment involved with Hoopers, and will learn about the main foundation techniques needed to be able to progress in the sport.


Requirements
For your dog to be able to attend these classes:
- Your dog must be comfortable working in a group environment.
- Your dog must be able to focus on you, when carrying out practical exercises.
- Your dog must have a good recall and not be overly interested in the other dogs in the arena.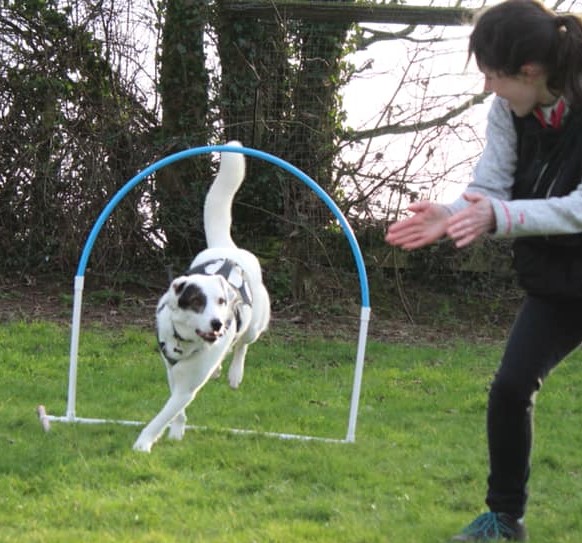 What will you learn during the workshop?
- Introducing the Hoops
- Progressing on to multiple Hoops
- Introducing Tunnels
- Introducing Barrels
- Building value into the equipment
- Corners - left and right directional turns
- Building forwards drive
- Start line behaviours: Creating a strong wait
- Start line behaviours: Adding a release cue to the wait
- Using Hoops for directional turns

These workshops run at Brookfield Equestrian Centre in Brindle at their indoor arena.


UPCOMING WORSHOP DATES:
Our next foundation workshop won't take place until mid-late June.
If you would like to be added to the waiting list to have priority booking access, please drop us an e-mail to This email address is being protected from spambots. You need JavaScript enabled to view it..

£30 for the 90 minute workshop BOOK NOW
We do also offer One to One Hoopers Training if you are keen to get started on your hoopers training journey but perhaps can't make the scheduled workshop or don't want to wait for availability.